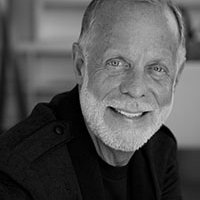 Fred graduated from his first NOLS course, a 25 and over Wind River Wilderness course in 1992. The following year he attended a 25 and over Sea Kayaking course in Prince William Sound, Alaska. A natural, Fred's instructors noted that he was "born in a kayak." In 2006, Fred and his sons, Fred II and Jonathan attended a Patagonia Fly-fishing and Back packing over 25 Course. In 2008, Fred and son, Jonathan, attended the NOLS Alumni ascent of Mt. Rainier in Washington.
Fred served as a member of the NOLS Board of Trustees from June 1996 to June 2002, and then joined the NOLS Advisory Council for a year. He was re-elected to serve on the NOLS Board of Trustees in June 2003. In June of 2004 Fred was elected vice chair of the NOLS Board and in June of 2005 he was elected chair. In June 2006 Fred was elected to serve an additional year as chair. In February 2014, Fred was elected NOLS Board of Trustees Chair Emeritus. In addition, Fred serves as NOLS Advisory Council Member Emeritus.
Fred is currently Senior Advisor, CEO (retired) to Morgans Hotel Group in New York City (NASDAQ: MHGC). He was President and CEO from September, 2007 until April, 2011 and had served on their Board since their IPO in February of 2006. Fred was elected to the Board of Caesars Entertainment Corporation (NASDAC: CZR) as an independent director in 2013, and serves on the audit committee of the Board. He is a current Member, Board of Managers, for Aimbridge Hospitality in Plano, Texas, the 2nd largest hotel and resort management company in the country. Prior to this he was chief executive officer of Wyndham International, Inc. and in August, 2005 led Wyndham to a successful transaction with The Blackstone Group of New York City. Fred joined Wyndham in 1999 as president and chief operating officer. He was named CEO in April 2000 and chairman of the board of directors in October of that year.
He previously served as president and chief operating officer of The Americas for Starwood Hotels & Resorts Worldwide, Inc. Hotel Group. His more than 40 years of experience in the industry also includes senior positions with Westin Hotels and Resorts, where he was president and chief operating officer; Interstate Hotels, where he was executive vice president and group president of operations; The Sheraton Corporation, where he was senior vice president, director of operations, North America Division-East; and Hilton Hotels, where for 16 years he served as general manager of several landmark hotels, including The Waldorf Astoria and The Waldorf Towers in New York, The Capital Hilton in Washington, D.C., and The Hilton Hawaiian Village in Honolulu.
Throughout his professional life, Fred has assumed an active role in the various communities where he has lived, both in professional and civic pursuits. A longtime supporter of diversity-related causes and initiatives, Kleisner served as the chairman of the NAACP's 2004 Corporate Campaign and served as chair of the American Hotel & Lodging Association's Multicultural Advisory Council and CEO Council. He is a member of Washington, D.C.'s Alfalfa Club, served on the Board of Morgans Hotel Group, is a Director of Kindred Healthcare (NYSE: KND), the Nations largest, post acute care provider of Long term acute care, skilled nursing, rehabilitation, home health care, and hospice providers. He chairs Kindred's compensation committee, serves on Kindred's Audit Committee as well as Kindred's Quality and Compliance Committee. He is a director of Apollo Residential Mortgage, Inc (NYSE: AMTG), and a member of Apollo's Audit Committee and Compensation Committee. Kleisner serves as a Director and Treasurer of the Museum of Arts and Design in New York City. He is an independent director of Playtime, LLC, a provider of indoor and outdoor safe soft play solutions for children which are anti-bacterial and anti-viral, as well as fungal resistant.
Kleisner is, and has been a member of numerous other professional and business organizations. As Chairman of the greater Washington, DC Board of Trade's Human Development Bureau and Chairman of Washington DC's summer Jobs for Youth Program, in 1984, President Ronald Reagan awarded him for the best summer youth program in the United States. He served as Chairman of Westchester County, NY and Washington DC's Private Industry Councils from 1978 to 1984. He has served on the advisory board of The Center for Strategic and International Studies in Washington DC, and currently serves on the Advisory Council of Michigan State University's School of Hospitality Business.
Fred resides on Bainbridge Island, WA with his wife, Johnna. They have four children and seven grandchildren. They are both active in areas demanding community and political responsibility. His daughter, an alumna of two NOLS courses, began the Kleisner interest in NOLS, sons, Fred II and Jonathan are both NOLS Alums. Jonathan is a current trustee of the NOLS Board.
In addition to his passion for the hospitality and gaming industry, Fred is an avid outdoorsman who enjoys kayaking, mountaineering, skiing, and cycling, swimming, triathlons, and century cycling events.
Fred, who holds a B.A. in hotel management from Michigan State University, completed advanced studies at the University of Virginia and Catholic University of America. He was awarded an Honorary Doctor of Humanities Degree from Wheeling Jesuit University in 1999. In 2004 Michigan State University's School of Hospitality Business honored Kleisner as its Industry Leader of the Year.