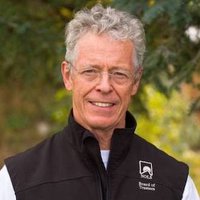 Herbie initially took a NOLS semester course in 1975 and became an instructor for the school in 1978. Over the next seven years he worked as an instructor, primarily at NOLS Rocky Mountain and NOLS Alaska, and was an instructor on the 1981 Denali Expedition.
Herbie graduated from Hamilton College with a degree in Eastern philosophy. After an 8-year hiatus, he completed Bryn Mawr's Post-Baccalaureate Pre-Med program and attended medical school at the University of Pennsylvania. His internship and residency in Emergency Medicine were at Harbor-UCLA in Los Angeles. Before starting his medical career, Herbie was involved in many pursuits. He was a 'technical ice consultant' for a Toyota commercial filmed on icebergs off the Columbia Glacier in Alaska and the sales manager for a radio station in Maine. He was a teacher at a school for dyslexic children, an illustrator for a children's animated film, and (favorite job!) - a bicycle messenger in New York City. These exploits were the basis for a featured chapter on him in the book Latebloomers published in 1985.
Currently, Herbie works as an Emergency Physician at Longmont United Hospital in Longmont, Colorado. He is President of Longs Peak Emergency Physicians and Medical Director of the Emergency Department. He lives in Lafayette, Colorado with his wife, Sheila and continues to cycle, ski, hike and enjoy life with friends and family. His daughter Lillie attends Hamilton College majoring in math/physics, and his son Luke recently graduated from Whitman College and is doing medical research in Seattle while racing for the Audi Pro Cycling Team.
Herbie became the Medical Advisor for NOLS in 1991 and was elected to the Board the following year. He served as Vice Chair of the NOLS Board of Trustees from 1995 to 1997 as well as Secretary in 1994 - 1995. He continues to serve as the Medical Advisor for the school and has been a member of the Risk Management Committee since 1992. He advises Admissions with student medical screening and provides consultation for field protocols and medical management issues. In June 2008 he was elected back to the Board for a third term. Although he has worn many hats at the school, his proudest is that of a NOLS parent. Luke has completed a Wind River Mountaineering course, the NOLS Whitewater expedition (with his sister) and was a member of the successful 2011 Denali Expedition. Lillie has also done a Wind River Rock Climbing course and a NOLS Scandinavia kayaking/wilderness course. Like Dad and true to the NOLS mission, they have all been life-changing experiences.