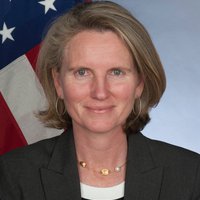 Isobel completed a month-long NOLS course in Alaska's Brooks Range the summer after graduating from college. NOLS has since had a special place in her heart. Her son Cullen completed a semester-long NOLS course in the Pacific Northwest in 2012 and her son Struan did the Rocky Mountain course in 2015. Isobel served on the NOLS Advisory Council from 1998 to 2006 and the NOLS board during 2013-2014. She left the board before completing her term to join the Obama Administration as one of the United States' Ambassadors to the UN. In that capacity, she focused on peacekeeping reform, negotiated all operational and budgetary matters, and represented the United States in the UN Security Council covering Africa, peacekeeping, and North Korea. 
Prior to joining the State Department, Isobel spent more than a decade as a senior fellow at the Council on Foreign Relations (CFR) in New York. She has published widely on the political economy of the Middle East and Africa, democratization, civil society, economic development, educational reform, and gender issues. She is the author and coauthor of numerous books, and her writings have appeared in publications such as Foreign Affairs, Foreign Policy, The New York Times, Washington Post, Financial Times, USA Today, Christian Science Monitor, The Atlantic and Forbes. In 2011, Newsweek named her as one of "150 Women Who Shake the World."
Isobel graduated from Princeton University with a BA in public policy and East Asian studies. She attended Oxford University on a Marshall Scholarship where she completed a Ph.D. in International Relations. After Oxford, she was a research fellow at the Brookings Institution in Washington, DC and then joined McKinsey & Co. as a management consultant. At McKinsey, she worked primarily with financial institutions and became a partner in McKinsey's New York office. She left McKinsey in 2000 to run a start-up company which she sold to a strategic investor in 2002.
She lives on Long Island with her husband Struan Coleman and their children.