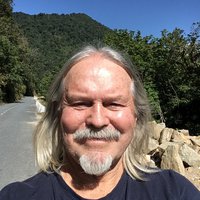 Daniel is a native of northern California. Educated at the University of California, he has a degree in Comparative Religion, and is a Wilderness EMT and a Registered Nurse. He worked as an Emergency Department nurse for 12 years, taught EMT courses at Santa Rosa Junior College for 26 years, and began teaching Wilderness Medicine in 1991. He's taught close to 100 Wilderness EMT courses and more WFRs than he can count. In 2015 he received both the Wilderness Medical Society's Education Award and the NOLS Master of Outdoor Education Award. Aside from teaching for NOLS Wilderness Medicine Daniel volunteers as a nurse and emergency medicine teacher in developing countries.
In 2002 Daniel walked the 500-mile pilgrimage route from France to Santiago de Compostela in northwest Spain. He liked it so much he turned around and walked back to France. Since then he has walked several thousand more miles of the various routes to Santiago. He has volunteered in pilgrim hostels, served on the national Board of American Pilgrims on the Camino, and leads trainings for hospitaleros along the pilgrimage route.
An avid surfer for over fifty years, he is happiest when he is at the beach.