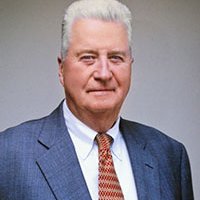 Doug, a NOLS parent, has been volunteering for NOLS since 1994 including serving on the NOLS Advisory Council. In 2002 he took his first course - horsepacking in the Wind River Mountains of Wyoming. Also, Doug has participated in NOLS alumni trips and invitational trips.
In 1964 Doug received a bachelor's degree in foreign affairs from the University of Virginia and in 1966 he earned his MBA from the Darden School. Doug has spent the bulk of his career as a venture capitalist and personal wealth investment manager. He is president and chief executive officer of HL Capital, Inc., a personal investment business in New York City, is now retired from the board of directors for Regency Centers Corporation, and is retired from the Board of MeadWestvaco Corporation.
Doug is a Trustee Emeritus of the Adirondack Council, the leading research and advocacy organization for the preservation and protection of the Adirondack Park. He is past chair of the Adirondack Mountain Reserve, and past Vice-Chair of the Adirondack Nature Conservancy/Adirondack Land Trust. Doug is a current member and past President of the New York Farmers. Also, he is a member of the Ausable Club, the UVA/Yale Club, the Mashomack Fish and Game Preserve in Pine Plains, NY, and a current Board member of the University of Virginia's Virginia Athletic Foundation.
Doug has completed four New York marathons, and he enjoys fly-fishing, bird hunting, and horseback riding. He lives with his wife, Sarah, in Pine Plains, NY. Doug and Sarah have three children and six grandchildren.
Doug served on the NOLS Board of Trustees from 2000 to 2006 and was re-elected to serve an additional three years in 2007. In February 2014, Doug was elected Trustee Emeritus of the NOLS Board of Trustees.