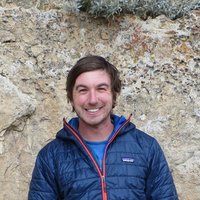 Growing up wanting to be Indiana Jones, Travis spends his time traveling, exploring, and going on adventures—but without the fedora and leather jacket. Instead of trying to protect ruins and artifacts like Indy, Travis is on a quest to bring the fun of outdoors, and the learning opportunities it provides, to others.
Amongst other things, Travis is an avid climber, explorer, bad joke collector, and thinks that velociraptors are the greatest dinosaurs around. Discovering NOLS in 2014, Travis decided this was the perfect way to combine his love of outdoors and work in human resources. Travis believes that a fantastic course outcome is one that fosters challenge and growth in the outdoors, and also builds the connections to bring these newfound skills and experiences to challenges in our everyday environments.
Travis particularly enjoys sharing his knowledge and facilitating discussions on leadership, communication, neuroscience, and of course, the latest happenings in the world of the WWE.
A climbing and hiking instructor, Travis is excited to join you on your adventure.